Foundation profile
Message from Chairman
Since I was unexpectedly awarded the Nobel Prize in Physiology or Medicine 2016, a large number and variety of people from both home and abroad have sent me kind messages of congratulations and words of encouragement. In particular, I have been greatly encouraged by the fact that more people are now interested in basic science than ever before.
However, Japan is currently in a situation where we should not become too excited by Japanese nationals winning the prize one after another. To put it briefly, it is doubtful whether we will continue to win in the future. It has recently become apparent that even when seen objectively, Japan's research capabilities will rapidly decline at their current rate.
I have thus been appealing for the provision of support for Japanese basic science and universities. Seizing the opportunity presented by winning the prize, I have decided to seek cooperation from many people with the aim of building a continuous system and in order that expectations for the promotion of basic science will not end up simply as something transient.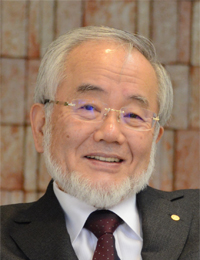 Yoshinori Ohsumi, Ph.D.
Honorary Professor, Tokyo Institute of Technology
Winner of the Nobel Prize in Physiology or Medicine 2016
Molecular cell biologist
◆Awards
Jun 2005

Fujiwara Award

Jul 2006

Japan Academy Prize

Sep 2007

Academic Prize of the Botanical Society of Japan

Jan 2009

Asahi Prize

Nov 2012

Kyoto Prize in Basic Sciences

Sep 2013

Thomson Reuters Citation Laureates

Apr 2015

Japan Endocrine Society Meister Award

Oct 2015

Canada Gairdner International Award in Life Science

Nov 2015

Person of Cultural Merit

Nov 2015

The Keio Medical Science Prize

Nov 2015

Shizhang Bei Award

Dec 2015

International Prize for Biology

Apr 2016

Rosenstiel Award for Distinguished Work in Basic Medical Research

Apr 2016

Wiley Prize in Biomedical Science

Sep 2016

Paul Janssen Award

Nov 2016

Order of Culture

Dec 2016

Breakthrough Prize in Life Science

Dec 2016

Nobel Prize in Physiology or Medicine

Sep 2017

Fundamental Prize of the Botanical Society of Japan